HubSpot is always 'SFTC' (solving for the customer) to help companies digitally transform their marketing, sales and customer service operations. As a HubSpot Solutions Partner, we love everything that HubSpot has to offer to help industrial, technical and engineering companies grow. Here's the highlights of the product updates in June to help you get the most out of the platform and accelerate your sales, marketing and customer service.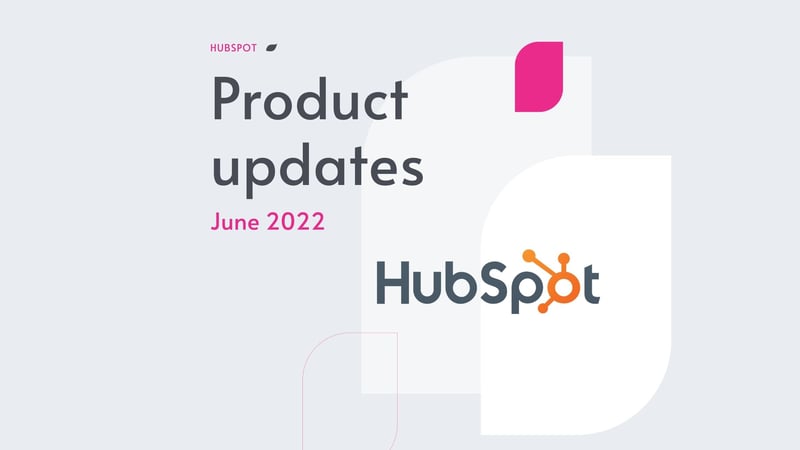 Free CMS tools
HubSpot introduced free CMS tools, built for small business founders and operators who are looking to quickly and efficiently create their first website and grow their business.
The free CMS tools include:
Access to the Asset Marketplace, filled with free and paid themes
Ability to publish up to 25 website pages in multiple languages
Blogging tools (1 blog / up to 100 blog posts)
Ability to connect a custom domain for website pages, blog posts, and landing pages
Drag-and-drop editing
Page-level analytics and Web Analytics dashboard
Built-in SEO recommendations
Developer tools (ability to modify your page HTML, CSS, and JavaScript using the Design Manager and CLI)
A company's website is often the first touch point a prospective customer has with that business, making it an important marketing asset. That's why growing businesses need a CMS that enables them to create a website that is customised to their unique needs. Historically, those customisation options have only been available in legacy CMS systems that are prohibitively expensive and often require developer resources that many growing businesses don't have.
HubSpot's CMS Hub is built differently, removing the need for customers to have to choose between ease of use and powerful, sophisticated software. With the launch of free CMS tools, we're now providing even wider access to the tools small and growing businesses need to build a website that will help them scale.
Google Analytics integration - now compatible with GA4
The Google Analytics integration will now accept Google Analytics 4 (GA4) IDs, which can be identified by the "G" prefix that precedes a string of numbers (i.e., G-123456789).
In the near future, HubSpot doesn't plan on supporting both a GA3 and GA4 integration in light of Google's plan to deprecate GA3, or Universal Analytics, which can be identified by the "UA" prefix that is followed by a string of numbers (i.e., UA-123456789). As such, we highly recommend that you use the GA4 integration.
Sunsetting API (HAPI) Keys
API Keys have been one of three authentication methods supported by HubSpot APIs. However, as part of ongoing efforts to protect customer's data, HubSpot will be sunsetting API Keys.
As a result of this change, integrations will instead be required to work with Private Apps. Private Apps offer tighter security and allow more granular control over your integrations and account data than legacy API keys.
Updated HubSpot roadmaps
The HubSpot roadmaps on www.hubspot.com/new have been updated. View the roadmaps to see what products and features they're developing.
HubSpot customers need to know what's coming next to plan for success and growth. The roadmaps provide this insight so you can make correct purchasing decisions, training plans, and much more.
A new process to create reports and dashboards
When creating a new report or new dashboard, you will be greeted by a new space that combines the options to build from scratch or choose from templates.
Reporting is crucial to understanding what parts of your strategy are working and where you can improve. When looking to generate insight on your team strategy in the form of a report or dashboard, it can be easier and faster to have some inspiration or a place to start.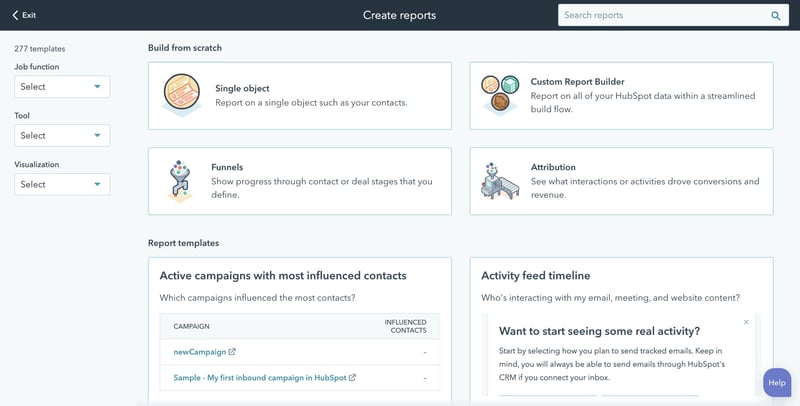 If you'd like to see some of these features in action, then book a demo...