HubSpot is always 'SFTC' (solving for the customer) to help companies digitally transform their marketing, sales and customer service operations. As a HubSpot Solutions Partner, we love everything that HubSpot has to offer to help industrial, technical and engineering companies grow. Here's the highlights of the product updates in May to help you get the most out of the platform and accelerate your sales, marketing and customer service.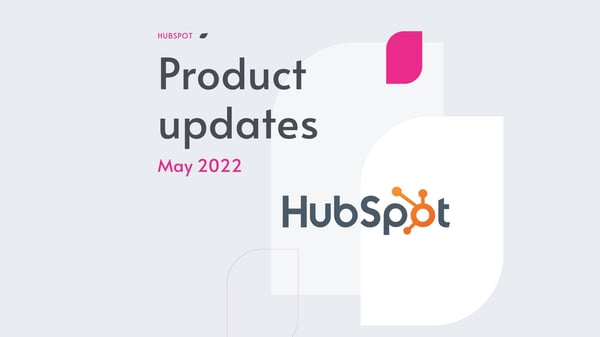 Inbound calling
Businesses can now acquire a US, UK or Canadian phone number within HubSpot! These phone numbers can be used to place outbound calls and receive inbound calls forwarded to your phone. All inbound and outbound call records, recordings, and transcriptions live in the CRM.
Previously, HubSpot only offered the ability to place outbound calls using your personal phone, so inbound calls and records existed entirely outside of HubSpot. Now you can connect with customers using a HubSpot number and centralise all conversation records in your HubSpot CRM.
Playbooks and call transcription & coaching available in Sales & Service Pro
New and existing Sales and Service Hub Professional customers now have access to two exciting features - Playbooks and Call Transcription & Coaching.
Customer conversations are the richest source of actionable insights for both sales and service leaders and reps. Until today, Sales and Service Hub Professional customers were expected to lead engaging, meaningful calls with prospects and customers while also scribbling down notes of the most important information. This can be distracting and result in unfocused conversations, not to mention countless hours of lost customer data.
Now with Playbooks, reps can have focused conversations with customers and managers can rest assured that reps hit all of the key points. Playbooks make it easy to take notes as you go, keeping the customer responses in the context of the questions they answer.
With Call Transcription & Coaching, you never have to worry about losing data you don't write down. The added ability to search within a transcript or across all your transcribed calls makes it easier than ever to find exactly what information you need. Managers can use transcripts and search to provide focused feedback for reps without having to listen to an entire call.
Ad performance metrics in custom reporting
If you have a connected Facebook, Google or LinkedIn ad account, you will now be able to see ad performance metrics in custom reporting. The power of custom reports coupled with your ad performance metrics data means you can now create reports that show year over year spend. You can also drill into specific campaigns and add them to a dashboard, or drill down to the ad level and compare spend across ads in a single report! The possibilities are endless.
By allowing this data into custom reporting, you can now fully utilise the power of custom reporting to take your ads reporting to the next level.
Forecasting and its widgets on Android mobile
You can now check your sales forecast on your phone not only on iOS but on Android as well!
Forecasting is a powerful tool with two main goals: on the one side, it supports Sales Managers to check their teams forecasting on the go. On the other, it allows Sales Reps to update their forecasts and include their notes on those from the app in a seamless way.
The Forecasting feature provides Sales Managers with the opportunity to visualise, filter, and edit their team forecasting. They have the option to see forecasting at a global level but also filter it to the sales rep level.
With this solution they can quickly see how the team is performing and provide support as needed.
Forecasting also helps Sales Reps update their forecast seamlessly from the app. Let's imagine they just have had a call and their initial forecast is lower than the current one. Just after registering their call, they can open forecasting from the app, update the forecast, and include a note for the record.
The forecasts can be filtered by pipeline and period of time.
On mobile, we view convenience as a must. Updating forecasts can get done in the in-between moments of our users' life wherever they are and this is why forecasts will help them make the right action at any moment. For example, do sales managers need to rethink their team strategy? Do sales reps need to create some tasks to follow up just after updating the forecast?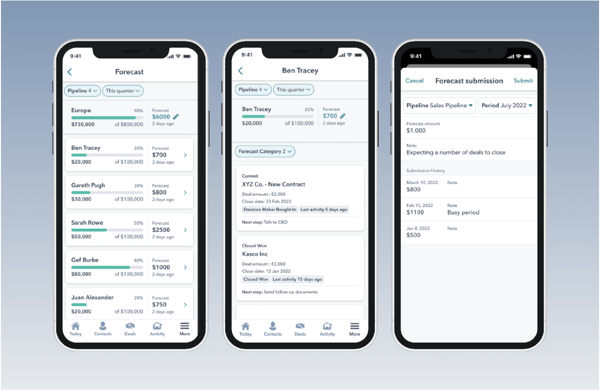 Responsive ad creation for Google Ad campaigns
Google ad campaign creation now only creates responsive ads. More on how responsive ads work can be found here.
On June 30, 2022 Google will be deprecating the ability to create or edit expanded text ads on its platform. See here for more information on this deprecation.
When creating a new Google search ad campaign in HubSpot, you will now only be able to create responsive ads. Any drafts that have text ads will continue to work until June 30th, 2022. We strongly encourage you to finish those drafts prior to June 30th.
If you'd like to see some of these features in action, then book a demo...