HubSpot is always 'SFTC' (solving for the customer) to help companies digitally transform their marketing, sales and customer service operations. As a HubSpot Solutions Partner, we love everything that HubSpot has to offer to help industrial, technical and engineering companies grow. Here's the highlights of the product updates in March to help you get the most out of the platform and accelerate your sales, marketing and customer service.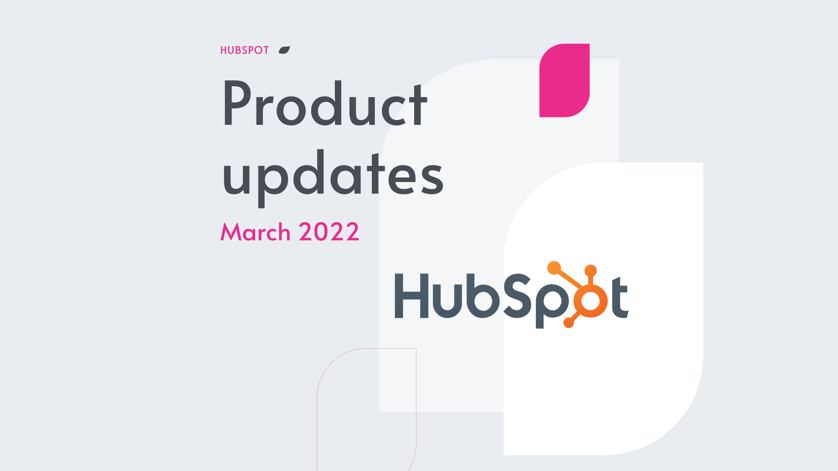 New and improved Service Hub
Service Hub is a customer service software that enables companies to prioritise the customer experience with an easy and connected platform that delivers authentic service. All new features allow companies to deepen customer relationships while driving team efficiency and connecting to the front office.
Customer service teams face unprecedented pressure as customer expectations have reached an all time high. Generic, inflexible customer service experiences leave customers feeling unseen and uncared for when they need help the most. Not only does this lead to lower customer satisfaction, but it can also impact the bottom line – according to Harvard Business Review, acquiring new customers is between 5 and 25 times more expensive than retaining existing ones. Investing in customer service today means better customer experiences and improved retention and profitability.
Service Hub provides teams with tools that are both easy to learn and easy to love so they can spend less time searching and more time helping. Key features of Service Hub include:
Customer portal,

which empowers customers to gain ownership over their experience with a secure customer portal. Customer portals keep ticket conversations going between customers and reps, so issues are resolved faster.
Service level agreement (SLA) management tools

that help companies prioritise incoming requests based on importance to ensure that service teams are meeting customer expectations. With SLA management tools, teams can set working hours, build in automation, and report on attainment.
Mobile inboxes

that keep teams productive on the go with tools for collaboration and delivering support efficiently.
Inbound calling (beta)

that allows teams to receive calls to a mobile device and track inbound calls from customers right in the HubSpot CRM platform, making it easy to reach resolution with speed and authenticity with all the information you need in one place.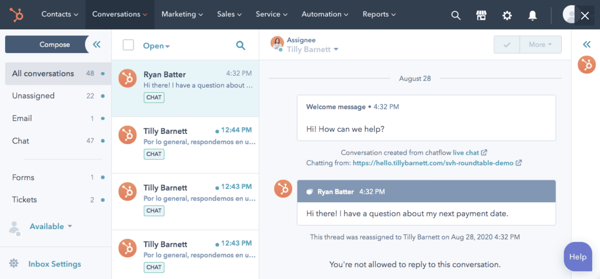 Compare marketing campaigns with the comparison tool
Marketing Campaigns are now supported in the Comparison Tool, enabling you to compare up to five campaigns side by side. Marketing Campaigns represent one of the most significant initiatives a marketing team can make towards hitting their goals. A campaign is a time-bound, goal-driven customer journey involving cross-team collaboration. This means it's even more important to be able to diagnose how each campaign is performing and compare campaigns with one another to know what's working and what's not.
For example, being able to compare the past few webinar campaigns against each other can help highlight areas of opportunity and learnings from campaign to campaign, and with the integration of the Comparison Tool into Campaigns this is now even easier.
Channel switching
Channel switching allows reps to easily switch between chat, Facebook Messenger, and email within the same shared inbox conversation thread. Without the ability to switch between channels, agents spend unwanted time piecing together conversation threads and customers receive an inconsistent or incomplete service experience.
Microsoft Teams integration
The updated Microsoft Teams integration, built by HubSpot, is now live. The integration gives you the ability to:
Automatically create Microsoft Teams meetings for all new meetings you create via HubSpot contact records, company records, or meeting scheduler. The Microsoft Teams meeting details are automatically added to your HubSpot meeting, so attendees can join seamlessly.
Receive HubSpot notifications in the HubSpot bot in Microsoft Teams
Leverage two workflow actions in HubSpot: Create a Microsoft Teams Channel and Send a Notification to Microsoft Teams
Choose between Full Install and Limited Install options (Limited Install allows users to install without needing Microsoft global admin privileges)
Use this integration to connect Microsoft Teams and HubSpot, so you can improve collaboration and run your business more efficiently. Reduce the need to switch back and forth between Microsoft Teams and HubSpot by taking advantage of this integration's features that keep the tools in sync.
Leverage this integration's ability to automatically add Microsoft Teams links to new meetings scheduled in HubSpot, effectively turning every meeting booked in HubSpot into a Microsoft Teams meeting. That way, it's easier than ever to schedule and join meetings.
While you're collaborating in Microsoft Teams, you can stay up-to-date with new HubSpot activity by receiving automatic notifications for chats, reminders, mentions, form submissions, and more. And automate your team's repetitive tasks with two Microsoft Teams workflow actions now available in HubSpot's Workflows tool. You can set up workflows that automatically create Microsoft Teams channels or send notifications, so your team can always stay up-to-date.