This month, in our "Technical media talks…" series, we chat to Neil Mead, managing editor of the Connecting Industry portfolio and editor of Automation magazine.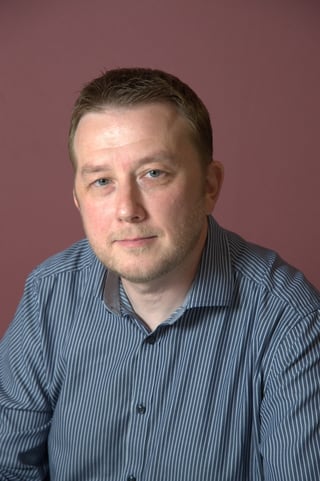 Fresh: Tell us a bit about the publications you are responsible for, and the one you edit. Who reads them and how many readers do they have?
NM: Published by Datateam Business Media, Connecting Industry is the UK's leading and most comprehensive portfolio of industrial publications. Each of the 12 magazines focuses on a specific area of UK manufacturing, making them highly respected information sources for engineers across all sectors of industry. The editorial team is made up of experienced editors who continue to track the latest developments and are often the first to break news, opinions and features that form industry's most in-depth coverage.

Supported by the Connecting Industry suite of printed magazines, the connectingindustry.com hub website is a comprehensive online resource for engineers and manufacturing professionals, with over 11,000 ABC audited unique daily users. The website is partnered by a full range of digital issues, mobile apps and electronic email publications, all of which provide an effective way of introducing readers to new technology and the latest developments in industry.

Automation is the only journal in the UK devoted exclusively to covering automation technology within the manufacturing sector. It has an annual ABC audit and the current circulation is just over 11,000 per month. The magazine is also available in a digital format and is complemented by regular dedicated e-newsletters, social media channels and the ConnectingIndustry.com website, as mentioned above.
Fresh: What subjects do you cover? What stories are you most interested in covering?
NM: Automation's feature-led editorial looks at the latest automation technologies, products and trends within the UK's manufacturing industry, while in-depth application stories examine real-life automation projects and the technologies employed. Importantly, all editorial focuses on the benefits of implementing automation solutions to help improve manufacturing efficiency.

The magazine also produces a number of dedicated supplements, which are supported by market-leading vendors and recognised industry associations.
Fresh: What makes you different from other publications in the sector?
NM: For over 20 years now, Automation has been the only publication completely focused on industrial automation technology and smart intelligent solutions for improving manufacturing repeatability, efficiency and profitability. The editorial is presented in a clear and easy to understand format, which is designed to appeal to both technical engineers as well as end-users who may not always be as technically qualified, knowledgeable, or experienced. This helps more readers to understand automation technology and the benefits it can offer the manufacturing industry.
Fresh: What will the publication be covering in the next year?
NM: Automation has really come to the fore in recent years, as more manufacturers get switched on to the positive effect it can have on their production efficiency and bottom line. It has become even more topical since the introduction of subjects such as Cyber Physical Systems, Industry 4.0, the Smart Factory, the Industrial Internet of Things and Big Data.

These are all areas that Automation has been covering for many years now, but which are only just starting to be fully understood and implemented by the manufacturing industry. There is still some confusion over what some of these terms mean and how they are likely to affect the industry in the future and this is really where the magazine comes in. It's our job to explain the various technologies and how they can fit into an existing facility and improve its output and ultimately make the individual company and industry as a whole more efficient and profitable.
Fresh: What are the main challenges and current trends facing your industry?
NM: The UK manufacturing industry has been under pressure to improve its performance in order to be more competitive with the rest of the world for many years now. Unfortunately, due mainly to lack of investment, UK industry has fallen behind other western nations and is now coming under increasing pressure from Eastern Europe and the Far East. However, the tide is gradually turning and thanks to some foreign investment, organic growth and the introduction of automation technology, UK industry is fighting back and continues to contribute a significant amount to the UK's GDP.

With a big focus and push on technology from many directions, including government incentives, the industry is now taking automation and robotics much more seriously. These topics, coupled with the interest in what digital technology, Industry 4.0 and the Industrial Internet of Things can actually deliver for manufacturers, are providing the main talking points and current trends within the industry.
Fresh: How did you end up in your current position?
NM: I started many years ago as a young fresh-faced editor on a model car magazine. I'd been writing for the publication for a while as an enthusiast and when the editor left I applied for the position and was lucky enough to get it. I had a great time working on that for a few years before going on to work on some other hobby and special interest publications such as The Woodworker, Practical Woodworking and Routing. I was contacted a few years later by someone at my current company who I'd worked with before. He told me there was a position available on Factory Equipment magazine. Having a keen interest in engineering and manufacturing I applied for the job, got it and I've never looked back. I've since worked on most of the other Connecting Industry titles at one time or another until being promoted to managing editor of the portfolio around five years ago.
Fresh: Describe a typical day at work.
NM: If I'm in the office, my day usually starts by checking through emails that can be a mix of news and product releases as well as feature ideas for future issues. It can take a while to sort through these and answer any that need it, so I try to limit my time to around an hour on them. I will then periodically check email throughout the day. I also have my social media feeds running on my Mac desktop so I can keep up to date with any interesting and breaking news.

I then have a walk around the office to catch up with the rest of the Automation team and editorial colleagues to see if there are any issues that need addressing. They are all quite experienced so generally things run pretty smoothly. If I don't have any meetings scheduled I will take a look at some feature planning for Automation and possibly make some phone calls to discuss commissioning features.

If I have an article to research and write, I will often do this after hours when the office is quieter, or even wait until I get home, as it can sometimes be difficult to concentrate with so much going on.

As I have quite a few responsibilities and a team to manage, I have to keep on top of editing Automation so try and work in advance. Being in the office gives me a chance to catch up with colleagues and get some work done, but I quite often have to attend meetings to discuss various issues and editorial strategy, so days go quite quickly.

If I'm not in the office I might be attending a press conference, a client meeting with the sales team or an exhibition. It's good to get out the office sometimes to meet people face-to-face and network with industry colleagues and PR contacts. These meetings provide the perfect opportunity to keep up to date with what's happening in the industry and discuss the latest trends and technology.
Fresh: What interests you most about your job?
NM: I have a very keen interest in engineering and technology so I love learning about how a new product may help to improve a process. Manufacturing still plays an incredibly important part in our country's economy, so it feels good to be reporting on and writing about something that really makes a difference.

I also enjoy the entire magazine production process and the creative side of my job, which is why I like to edit Automation magazine myself. It keeps in touch with the industry and up to speed with the issues the rest of the editorial team are facing on a daily basis. Even after many years in publishing, I still look forward to the latest issue of the magazine arriving and take pride in knowing that I've created something each month. I like meeting people and making new contacts, so the social side of the job is also very important to me as well.
Fresh: What's the best advice you've been given?
NM: Make the most of every day and enjoy every minute of it, no matter what you may be doing, as you never know what's around the corner.
Fresh: Tell us one thing that not many people know about you.
NM: If I hadn't gone into publishing, I would loved to have been a racing driver as I am passionate about cars and motorsport and I'm also extremely competitive.
Fresh: What information from technical PRs do you find most useful?
NM: Like most journalists, I'm always on the hunt for interesting and topical industry news as well as in-depth case studies and application stories. I realise companies are always keen to send out press releases about their latest and greatest product or service and we have a certain amount of space available for these, but a well researched and written case study stands a much better chance of being published, especially if it's sent as an exclusive or at least for first use.
Fresh: How should PRs approach you?
NM: The best way to contact me is by email, but these days I'm receiving more approaches via social media, usually on Twitter or LinkedIn. Any of these are fine, but I never mind receiving a follow-up phone call as I do get sent an awful lot of material on a daily basis.
Fresh PR testimonial:
"I've enjoyed working with Amanda, Oana, Keith and the rest of the team at Fresh B2B for a number of years now. I've always found them to be very friendly and approachable, while at the same time being efficient and knowledgeable. They have a good understanding of what editors of technical journals are looking for in terms of press releases and feature material and always provide what's required and, most importantly, deliver on time"