---
So you've decided to take the plunge and embark on content marketing. Great! I'm sure you're excited to get started on creating awesome content, but before diving head first into eBooks, infographics and thought leadership articles, it's important to establish your content marketing strategy first.
Taking the time up-front to create a strategy may seem like a lot of hard work, but it will reduce the workload over time and maximise your efforts.
Know where you're going
Before you do anything else, you need to define your goals and objectives. These should be aligned with the broader business goals. What does the business want to achieve in one/three/five years' time? Start with the bigger picture, and work your way down to what marketing elements you need to achieve this, and finally what content marketing needs to do for you.
Here are some common goals for content marketing to consider:
Improve SEO
Increase website traffic
Raise awareness
Move leads through the buying journey
Brand loyalty
Increase engagement
Generate leads
Nurture leads
Increase sales
Become a thought leader
Influence stakeholders
Educate buyers
---
Be SMART:
Remember, goals should always be SMART – specific, measurable, achievable, relevant and timely!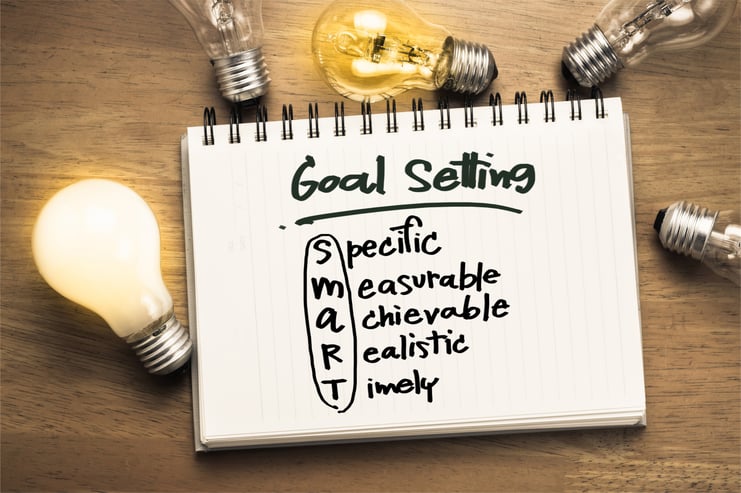 Specific
Goals should be clear and specific; otherwise you wont feel motivated and focus your efforts. It's often a good idea to answer the six W's:
What do I want to accomplish?
Why is this goal important?
Who is involved?
Where is it located?
Which resources or limits are involved?
When will be get there?
Measurable
Identify a numeric target for your goals – whether it's pound signs, percentage increase, rank or traffic figures – so you can track your progress and see what's working well, and what needs tweaking. Keep an eye on these figures regularly so you can implement any improvements quickly and see the impact of your content marketing efforts.
Achievable
Don't set unrealistic goals so you become disheartened. The goals need to be challenging but achievable. Look at historical data and analytics to see how you have performed in the past. If, for example, your website traffic has increased monthly by 15%, set a target of 20-25% rather than 100%! The additional increase in traffic will inevitably raise awareness of your company and subsequently more sales leads!
Relevant
All of the above listed goals are relevant to the broader business goals; they are not 'vanity metrics' of likes and re-tweets. They will have a direct correlation on supporting the business and are measurable.
Timely
Implementing a timeframe is a must. It helps you to keep focus and makes you accountable. Yes, they often slip because of daily disruptions, but if you're referring to your strategy regularly, (and you should!); you can address it and get back on track. Again, the time scales also need to be attainable. Doubling your sales leads in a month is unrealistic, but in two years… challenging but possibly do-able.
---

Realising the vision:
Once you've established your goals, you can start planning the steps needed to work towards realising the vision. The goals also provide a framework for the future content you'll produce, ensuring that it is aligned to the overall business objectives.
To help you get started, we've developed this template to help industrial companies create their own content marketing strategy – you can download it here...
Our next blog in this series will focus on establishing your target audience.
---