We're half way through our series of creating a content marketing strategy for industrial, technical and engineering companies. We've covered setting goals, defining your target audience, doing a content audit and developing topics - all essential planning activities needed before you engage with your audience.
To co-ordinate your content ideas successfully, it is crucial to develop a content calendar. If you don't have a calendar, your content marketing will become disjointed rather than targeted and strategic.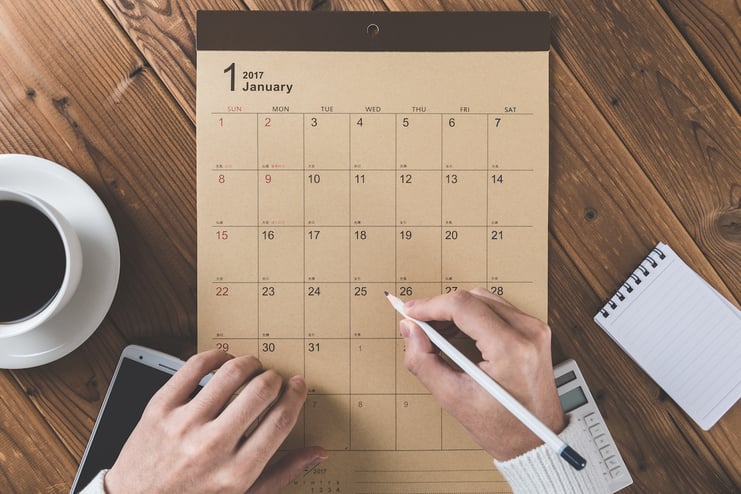 Editorial calendar benefits
Aside from preventing ad-hoc content, there are lots of other benefits to creating a calendar:
Helps you focus on the needs of your audience
Make a note of key industry dates – new standards, exhibitions, product launches
Streamlines resources and creates efficiencies
Ensures a variety of content tactics
Helps integration across platforms and channels
Plan around seasonal events or national days
Delegate tasks to team members
Amplify idea generation
Make sure team members are aware of upcoming deadlines
Never miss important dates
There are lots of tools out there that offer a wide range of calendar functions – whether its marketing automation or project management software, publishing platforms or apps. It is perfectly acceptable to start out with pen and paper, an Excel spread sheet or Apple/Microsoft/Google calendar! You need it to plan well in advance, track progress and stick to (even loosely), so a simple one is better than none.
The basics
What data you include on your calendar will depend on your organisation, your working methods, your goals and available resources. But at the most basic level, we would recommend that you include the following fields:
Date to be published
Topic or theme
Type of content
Where it will be published/promoted
Target audience/buyer persona
Responsible person/author
For more detailed planning and tracking, these elements could also be included:
First draft deadline
Final draft deadline
Potential headlines
Social media posts or captions
Target keywords
Meta description and alt tags
Calls to action
Supporting visuals
Topics/categories/segments
Important industry events
Important business events
Stage of the buyer journey it is targeting
Status of content
Filled and focused
You've got the calendar in place, so now you've got to fill it up! Think about future product releases, company announcements or events and develop content to promote these. Each campaign will warrant different amounts of content and promotion around them – a huge product release could require multiple types of content, while others will just need one.
Don't forget to show your company culture and personality by planning in some posts or content that highlight who you are and remember - people like to do business with people, so show your human side.
It's a good idea to have a brainstorm/creative huddle/thought shower (whatever you want to call it!) with people from across the company. It's useful to include not just the marketing team, but members from R&D, product development, sales or operations who can bring different perspectives. After the session, take the raw ideas, pick your favourites, refine/define them and add them to the calendar.
Free calendar templates
We are still perfecting our content calendar, but as soon as we have, we'll share it with you! In the meantime, here's a list of calendar templates that we have found useful:
Plan, create, schedule – simple! There will be times when you stray from the plan, but having one down keeps you focused on creating content that will resonate with your audience, and ultimately lead to those goals of increased web traffic, sales leads and sales.
This blog is part of a series on creating a successful content marketing strategy. We've developed a template to help industrial companies create a strategy – download it below. Our next blog in the current series will focus on the different types of tactics for content.