To support our dedication to delivering the very best technical marketing services and our continued growth, I have recently become Inbound Certified by Hubspot Academy.
We invest heavily in keeping up-to-date with new platforms, technologies and marketing methodologies to ensure we provide added value to our clients, that we become trusted advisors and that we are always more agile than larger agencies.
This commitment has led us to inbound marketing…
What is inbound marketing?
Inbound marketing is focused on attracting customers by offering relevant and helpful content and adding value at every stage in your customer's buying journey. With inbound marketing, potential customers find you through channels like blogs, search engines and social media.

Unlike outbound marketing, inbound marketing doesn't need to fight for the attention of your potential customers. By creating content designed to address the problems and needs of your ideal customers, you attract qualified prospects and build trust and credibility for your business.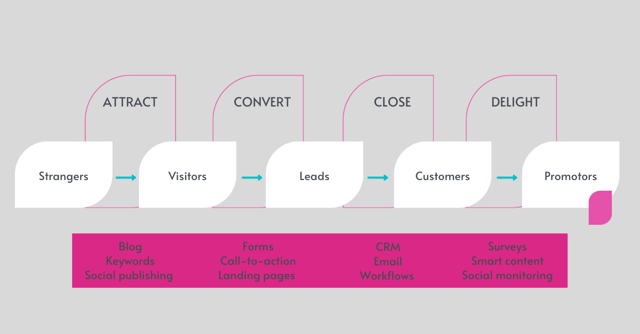 I've cheated a little and copied Hubspot's description above! But it accurately describes what inbound marketing is and how it helps companies to generate leads and move those leads through the buyers journey to becoming customers.
Inbound Certified
HubSpot Academy's Inbound Certification course features twelve classes that span the four stages of the inbound marketing methodology. From optimising websites for more search traffic, to landing page anatomy that generates more leads, this course and the certification examination cover all the fundamentals of inbound marketing.
Since discovering Inbound Marketing, I've become a huge fan and now I'm hooked! It makes so much sense and aligns the marketing and sales functions for greater success in reaching business goals.
I'll certainly be completing other Hubspot Certification courses, particularly Email Marketing and Content Marketing. At the heart of inbound marketing is great content that addresses the pain points of your target audience. We're already creating great content for industrial, technical and engineering companies, but it never hurts to remain committed to training to ensure that innovation keeps evolving and skills are always current.
We're passionate about helping engineering, industrial, technical and manufacturing companies grow. We get very excited about the amazing opportunities and results that inbound marketing can produce for companies just like yours. That's why we're offering a free marketing assessment - to show you how inbound can help you.